This week's contribution comes from a dear friend who also happens to be a fantastik herbalist.  Emulee and I met while working on a farm in Northern Michigan and quickly bonded over a love of singing (90's songs, specifically) while out in the field, Space Jam, and fruit bars.  She's currently walking the red-road (back-packing through her ancestral Eastern-European lands) and she just started her own blog where she shares her herbal (& other) wisdom here.
There's nothing like a hot cup of herbal infusion…NOTHING!
I know that statement doesn't have the same ring to it as saying "there's nothing like a cup of tea", which is also true, but they really are two different things. The only true "tea" is brewed from the actual tea plant, Camellia sinensis, which most of us know as green, black, or white tea (it's all the same plant!).
Infusions are other herbs steeped in hot water, better known as "herbal teas" to most people.  Even as a longtime herb nerd, I only recently got into the habit of watching my language when differentiating these two classic beverages. Actually,  it was Lauren who instigated this. I recently visited this dear friend and fellow blogger at her home in Switzerland and we had a lovely time together sauna-ing, eating, and drinking infusions, or tisanes as they call them in Swiss French.
I love that Francophones have a simple word for this, whereas in English most people say "herbal tea" which is inaccurate and misleading. I realize that it's much easier to call them teas than infusions, but I will be referring to them as infusions from here on out.
And…I am so excited to share one of my new favorite herbal infusions with you all! It is one that was introduced to me by a new friend in Germany just before I visited Lauren, and it is a simple blend I will probably be drinking for years to come: rose and cardomom.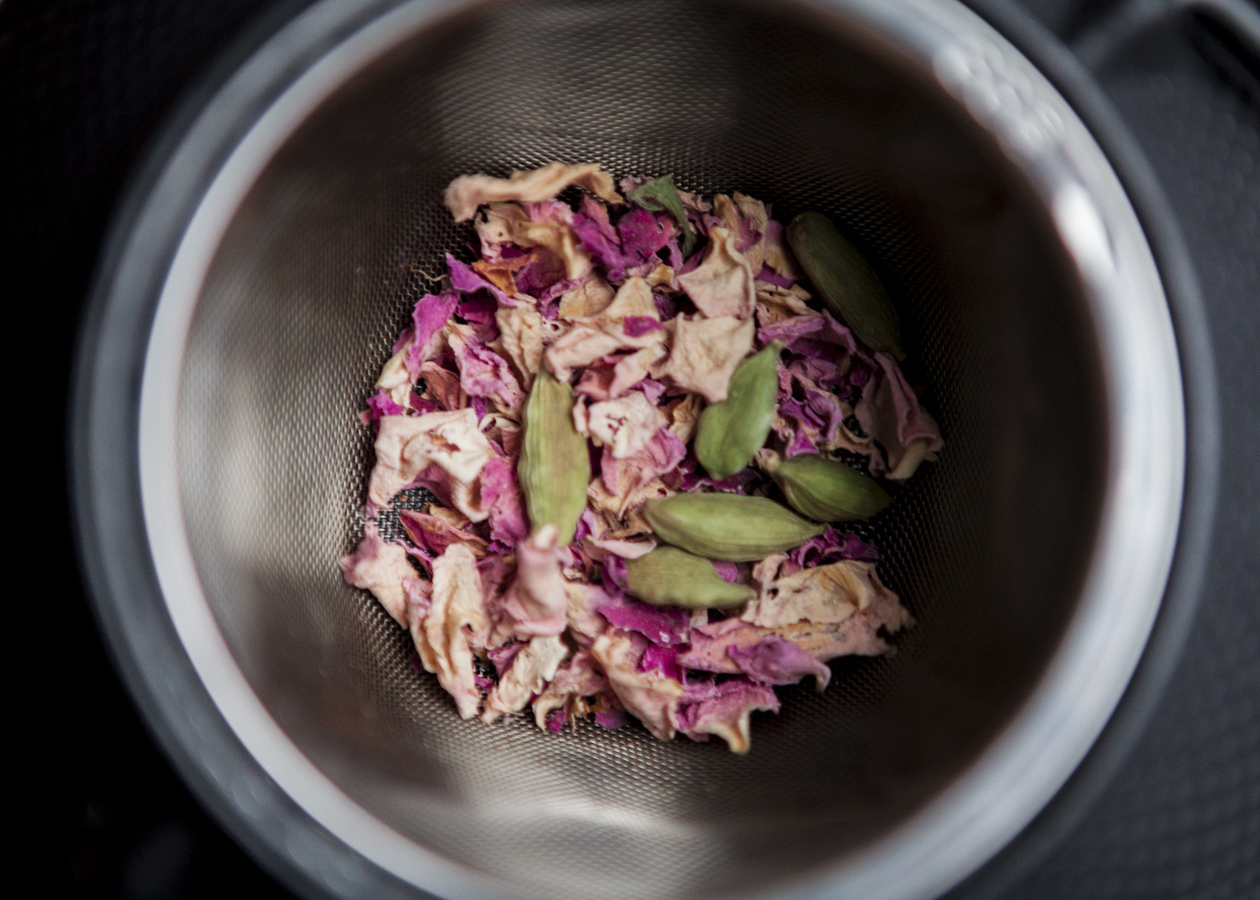 Out here on the road, I've found myself missing my home nearly every day. The family, friends, familiar herbs and trees, the hugs shared daily with so many loved ones. The first night I had this blend, I was having a particularly hard time being separated from my Northern Michigan tribe and adjusting to the cold, gloomy, snow-less European winter. As I sipped, I could hardly believe the warmth and comfort this lovely beverage offered. I couldn't wait to share it with all my infusion-loving friends!
There are several reasons why rose and cardamom infusion is such a feel – good beverage. On the physical level, rose (Rosa spp.) has many actions, including antidepressant, antispasmodic,  aphrodisiac,  asringent, antibacterial,  antiviral,  anti-inflammatory,  cleansing,  expectorant,  and menstrual-regulating, just to name a few.
Cardomom is pungent, spicy and warming. It increases circulation and digestion, and like rose, is also classified as an aphrodisiac.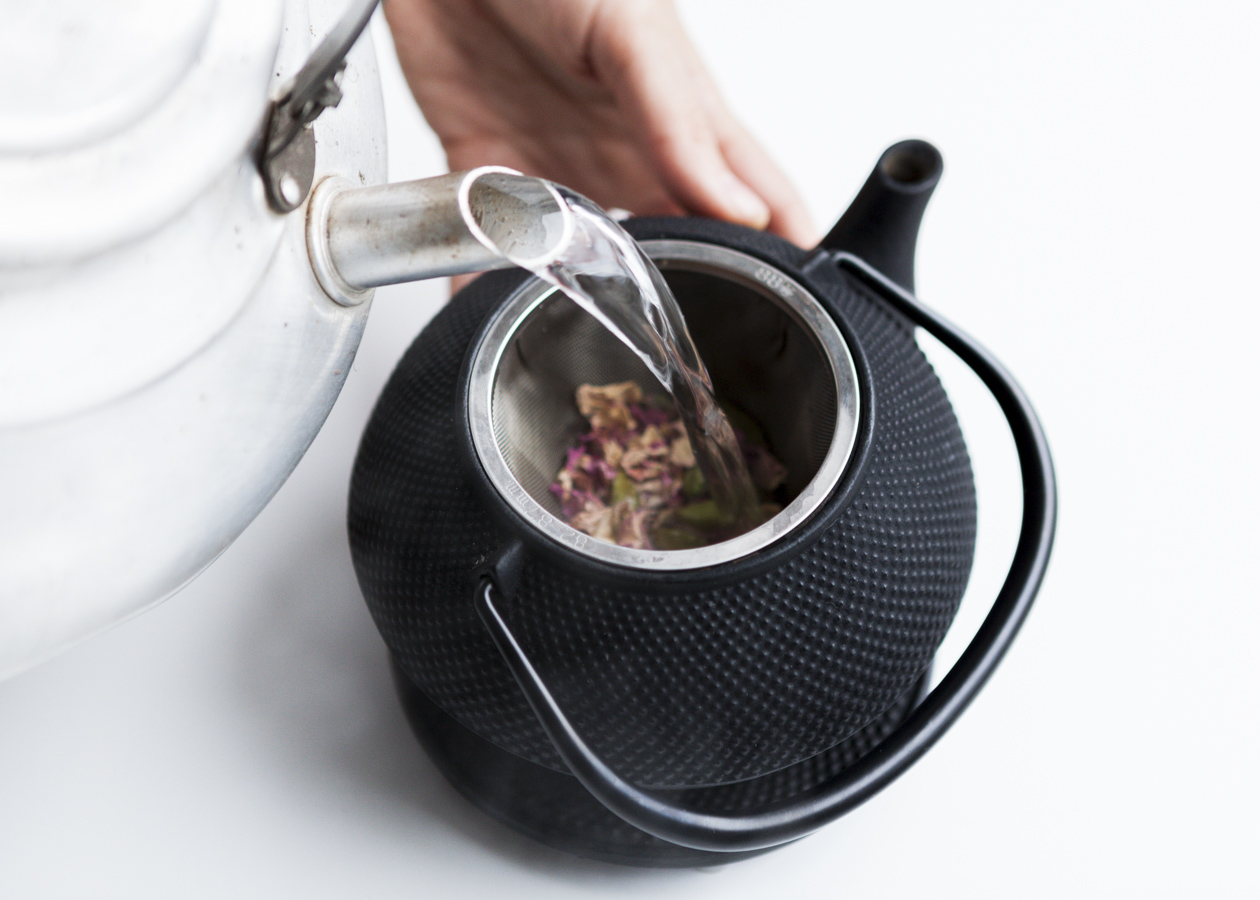 Now to get a little witchy – woo on you: in the tradition of Plant Spirit Medicine, rose flower essence heals the emotional heart. It brings comfort and openness. Cardomom essence increases warmth on all levels, stimulates creativity, and enhances concentration.
Now that it's finally spring,  I am still enjoying the comfort and giddiness this tea brings every bit as much as I did in winter. I think it would even be good and refreshing as an iced infusion in the summer.
Whatever your timing and reasons for indulging in this lovely herbal friend, I wish you happy spring tidings of warmth, good digestion and creativity! Happy infusing!
Article by Emily Reisick.  Photography by Lucas Olivet.