It's mid-May and Summer is already afoot:
Dandelions have gone to seed, lilac's in bloom, strawberries redden and branches grow greener and evenings stretch longer and submerge us in blue.
These blue nights of late Spring and early Summer–described so beautifully by Joan Didion in her memoir— always invoke major nostalgia for me.  Nostalgia for past Summers and the places I spent them in and the people I spent them with; and even, oddly enough, for this coming Summer–which I think about so often that it sometimes feels as if it's already gone.
Lately, I've been getting ahead of myself.  All the growth of this season brings a sense of boundlessness, infinite possibilities.  There's so much space within these blue nights and I find myself wavering between projecting too far into the future and retracing the past, often missing the little details of the present moment.
The little details which become currency for nostalgia, what is cherished, held close: the nacho dinners Emulee and I would make after a long, hot day of weeding on the farm,  salted hakurei turnips by the lake, a pickled egg and a glass of cider at Tandem's counter, the ride-home with Kasia after symphony-in-the-park with reggae turned up and windows rolled down, light scattered across a patch of tall nettles, the knick-knack shelf in my grandma Stella's living room, a jelly doughnut cut in half, home-made potato salad in a yellow bowl.
My nostalgia for the past reminds me that while attending to the future is undoubtedly important, engaging in the present is vital, as these are the moments, the little details that give, dare I say, meaning to our days.
Last Sunday, some peonies really drove that message home.  One of my favorite flowers, I realized I was taking home the first bunch of the season and quite possibly the last one.  Their flowering season is short.  If I'd been looking too far ahead–toward this coming Summer–or too far behind, I might have missed them altogether.
Like I might have missed these first harvest, or new, potatoes of late Spring.
This new potato potato-salad is based on the memory of my grandma's potato salad–the one in the yellow bowl.  It isn't her recipe–she used mayonnaise and celery and sometimes apple in hers–but it reminds me of her and the summers we shared.
In French new potatoes are called delicatesses, a fitting name for these earthy-sweet and tender tubers.  A handful of red-skins, some shallots, some sage, a whole fistful of parsley and a tangy-sweet dressing make a salad that is, in my opinion, the perfect compliment to these extended twilight hours and all the space for picnics by the lake, BBQs in the yard, and new found little details they provide.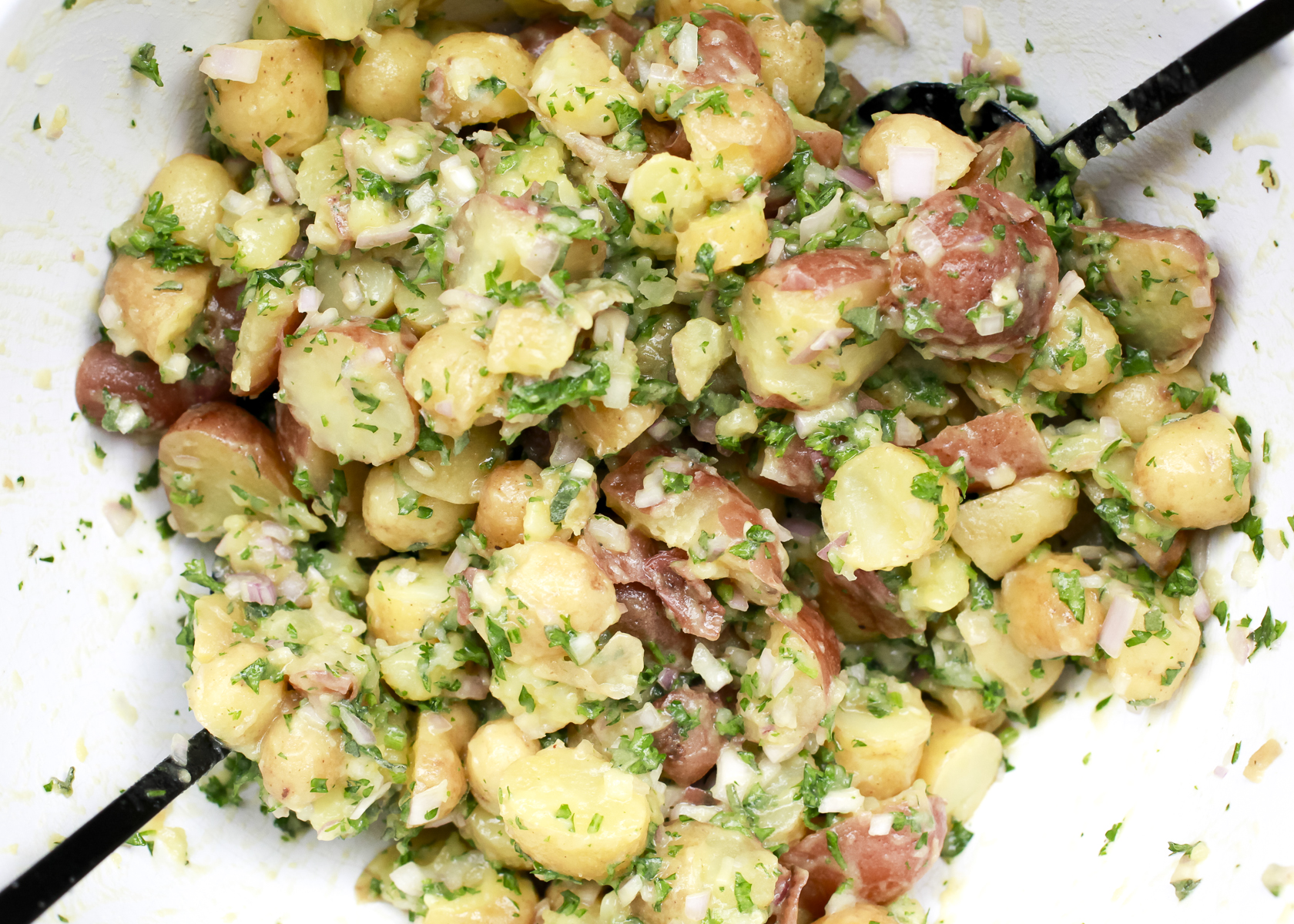 Ingredients
For the salad

1 kilo potatoes, mix new + red-skin
1/2 bunch parsley, minced
handful fresh sage, minced
2 shallots, minced
pinch salt

For the dressing

1/2 olive oil
1/4 cup apple cider vinegar
2 tablespoons mustard
1 tablespoon honey
pinch salt
Directions
Scrub potatoes and chop into bite-sized pieces (in half for new potatoes, in quarters for red-skins). Place into large pot and cover with cold water. Add pinch of salt and place on stove on high-heat. Once water is boiling, reduce heat and let potatoes simmer for 15 minutes, or until tender. Drain and rinse in cold water.
While potatoes are boiling, chop shallots and herbs and place in large mixing bowl. Make dressing by adding all ingredients to a jar, sealing and shaking like a wild-wo/man or until emulsified.
As soon as you've drained and rinsed your potatoes, add them to the mixing bowl and pour over the dressing. (It's important to pour the dressing on while the potatoes are still warm). Mix everything together. Serve right away for the warm version or cover and keep in the fridge overnight for the cold-version.
Keeps in the fridge for 3-4 days, if well-sealed.
---
Mes amis de Suisse:
Ce Samedi à Plainpalais il y a un évènement Art Sans RDV –c'est une expérience immersive à la rencontre de la plaine de Plainpalais et des oeuvres d'art qui l'habitent.  À 19h30 je préparerai le buffet pour l'inauguration de leur application mobile: des nori-rolls avec riz noir et pesto d'ortie/des betteraves/des carottes et des macarons de noix de coco et des amandes.
J'espere vous voir là-bas!