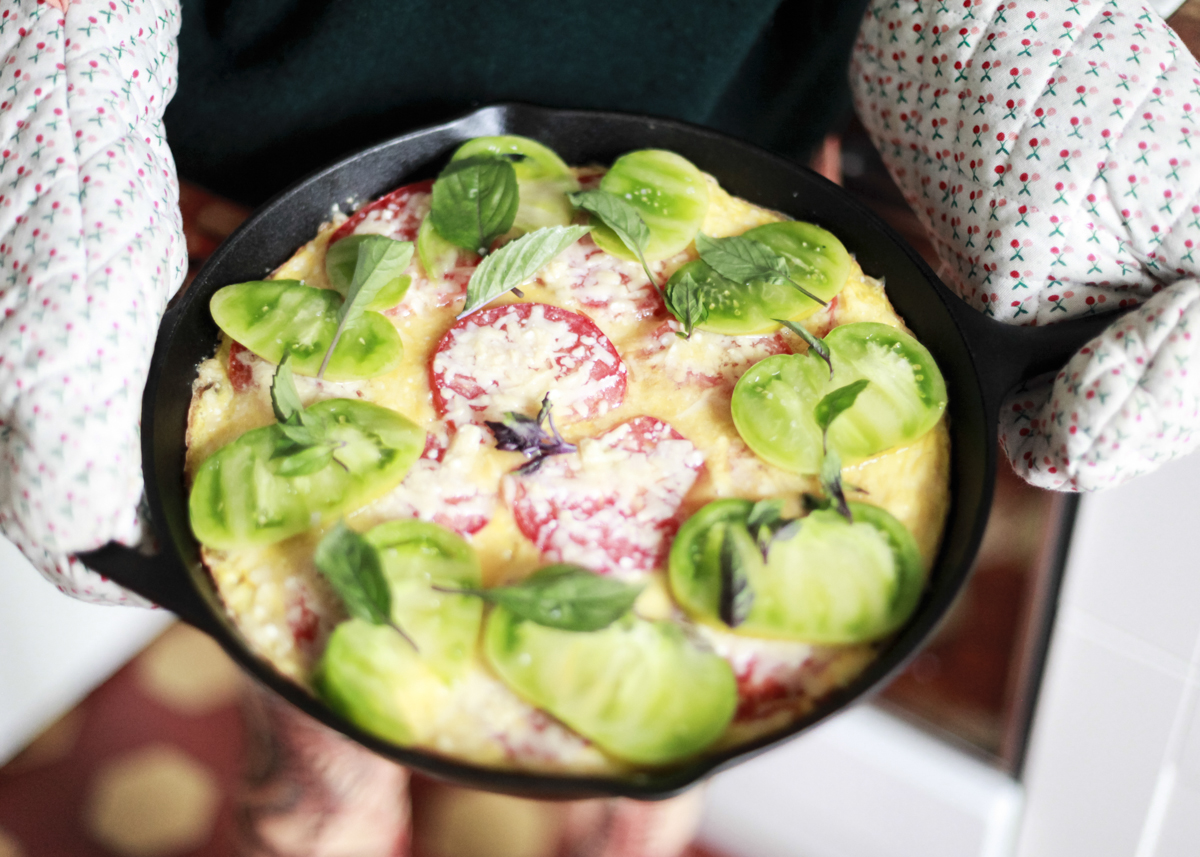 Happy Autumn Equinox, friends!
If your September has been flying as fast as ours has, then this dish is for you.  Call it a frittata or tortilla or just plain ol' egg-pie, the combination of potatoes + assorted vegetable + eggs + cheese has seen me through many a hectic day.  It's my kind of fast-food: one whose ingredients can be found in even the emptiest fridge, that takes five or less minutes of active preparation and can be eaten for breakfast, lunch and dinner and mid-night snack.
Last week I happened to have a few beautiful (and slowly turning) heirloom tomatoes on hand, so I arranged them on top of the potato and zucchinni frittata I was making.  I only had six eggs to fill my very broad skillet, so I added a whack-load of parmesan cheese to bulk it up.  When I took it out of the oven, I realized it totally belonged to a different genre of egg-pies–namely, the pizza one.  I added some freshly plucked basil and a good glug of olive oil and presto: the uovo-magherita (or egg-pizza) was born.
The Autumn Equinox is the official start of Fall, a farewell to Summer and a welcoming of cooler days, longer nights, and also sweaters, wool socks, sweet cider, and what is slow-cooked, brothy, roasted, stewed.
Saying farewell to Summer means a farewell to zucchinis and heirloom tomatoes and fresh basil, too.  That's why I'm sharing this egg-pizza w/ you.  Let's send off Summer in style.  Fast-food one, at that, to enjoy these still not-too-cold evenings and this waning Summer light.
Equinox Uovo-Margherita (or Egg-Pizza)
My cast-iron skillet has a 15-inch diameter. The amount of ingredients you use will depend on the diameter of your pan. Egg-pie, for me, is totally intuitive --use what you have on hand and let go of precision! If you've never improvised on a recipe before, this is a safe place to start.
Ingredients
knob ghee
two handfuls of new potatoes, peeled and sliced in half then sliced thinly
2 small zucchinis, sliced in half then sliced thinly
6-8 eggs, whisked w/ salt
1-2 heirloom tomatoes, sliced thinly
a generous chunk of parmesan, grated
few leaves basil
glug or two of olive oil
course celtic sea salt
Directions
Heat oven to 300F (150C). Place skillet or pan on stove and heat on medium. Add ghee once skillet is nice and hot and let melt.
Add potatoes, distributing them evenly. Let cook undisturbed for 5 minutes so that they brown. Add pinch salt.
Add zucchinis and stir. Let cook for a few more minutes.
Whisk eggs in large mixing bowl w/ pinch of salt. Pour over zucchinis and potatoes.
Let cook on stove for 5 minutes. Arrange half of your heirloom tomatoes on top. Take off heat and transfer to oven.
Let cook for 12-15 minutes. I like my eggs to be wobbly, so I take mine out on the early side.
A few minutes before you take your pie out of the oven, add the parmesan cheese.
Let cool and add other half of the heirloom tomatoes, the basil and the good glug of olive oil and sprinkle w/ salt. Enjoy!