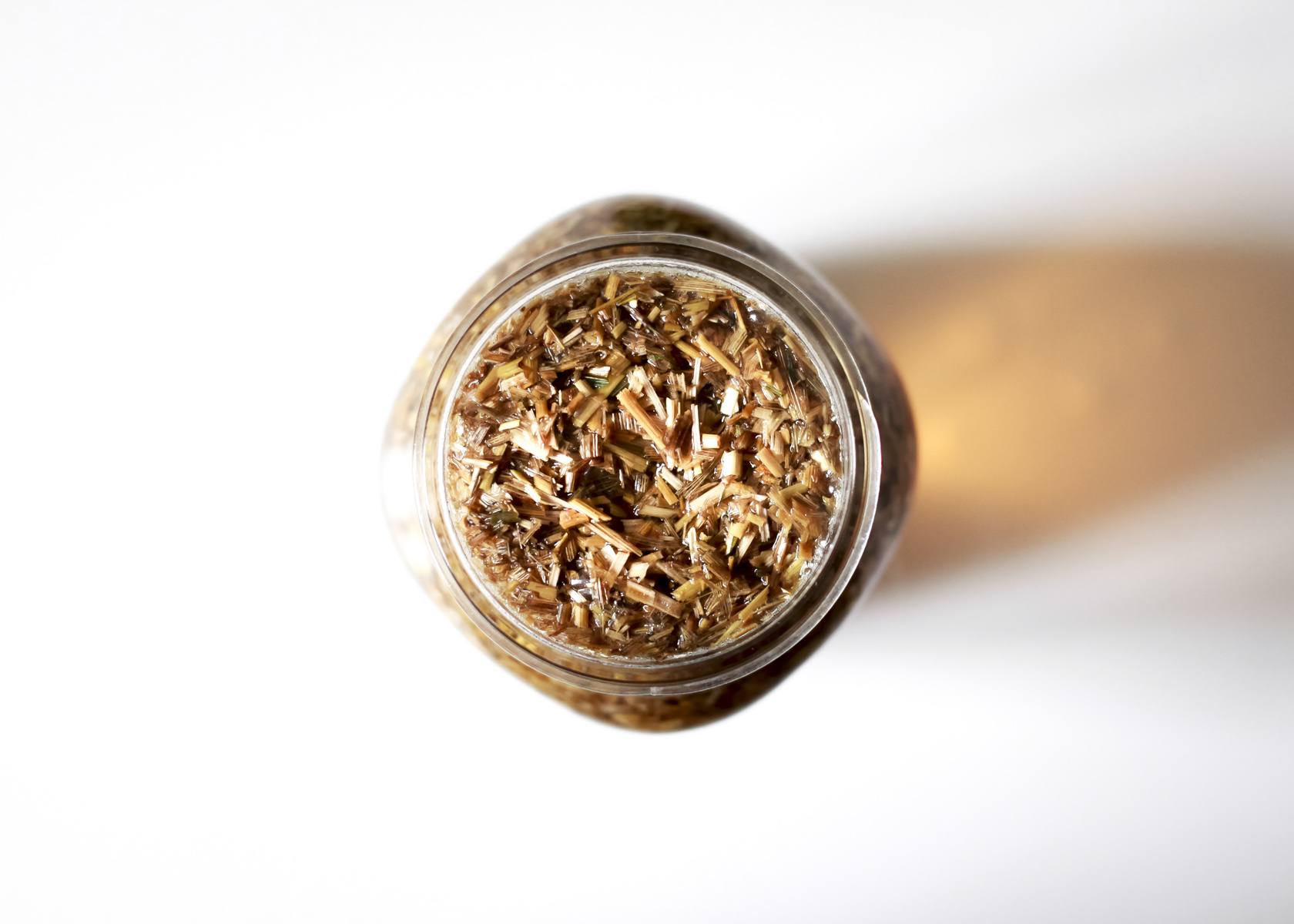 If you've been exploring the world of eating-for-health, you probably have some experience w/ oats.  A thick oat-porridge on a cold Winter's morning, a bowl of over-night oats–soaked in raw milk and loaded w/ muddled strawberries and flax seeds–in Summer, oats mixed w/ butter & rapadura (a minimally processed sugar) and spread on-top of some chopped fruit for crumble:  w/ oat's high-content of protein, B-vitamins, minerals and fiber, it's no wonder that we've all come to dote on the oat.
But what if I told you that there's a whole other side of oats that you've probably yet to explore, o-holistic-health-seeking-friend?
These days, more than ever, we tend to think about eating a food in its entirety, making use of every component.  This can mean bone-broth, carrot-top pesto, roasted beets served on a bed of their greens, or, for the particularly brave amongst us, headcheese.
It can also mean this nourishing oat-straw infusion.
Which brings me to Avena Sativa.  Most of us are familiar w/ the grain of this plant–the "oat"–but the grass–the green stalks and leaves, or "oat-straw"–contains many of the same nutrients as the grain and can be used to make a simple and refreshing drink.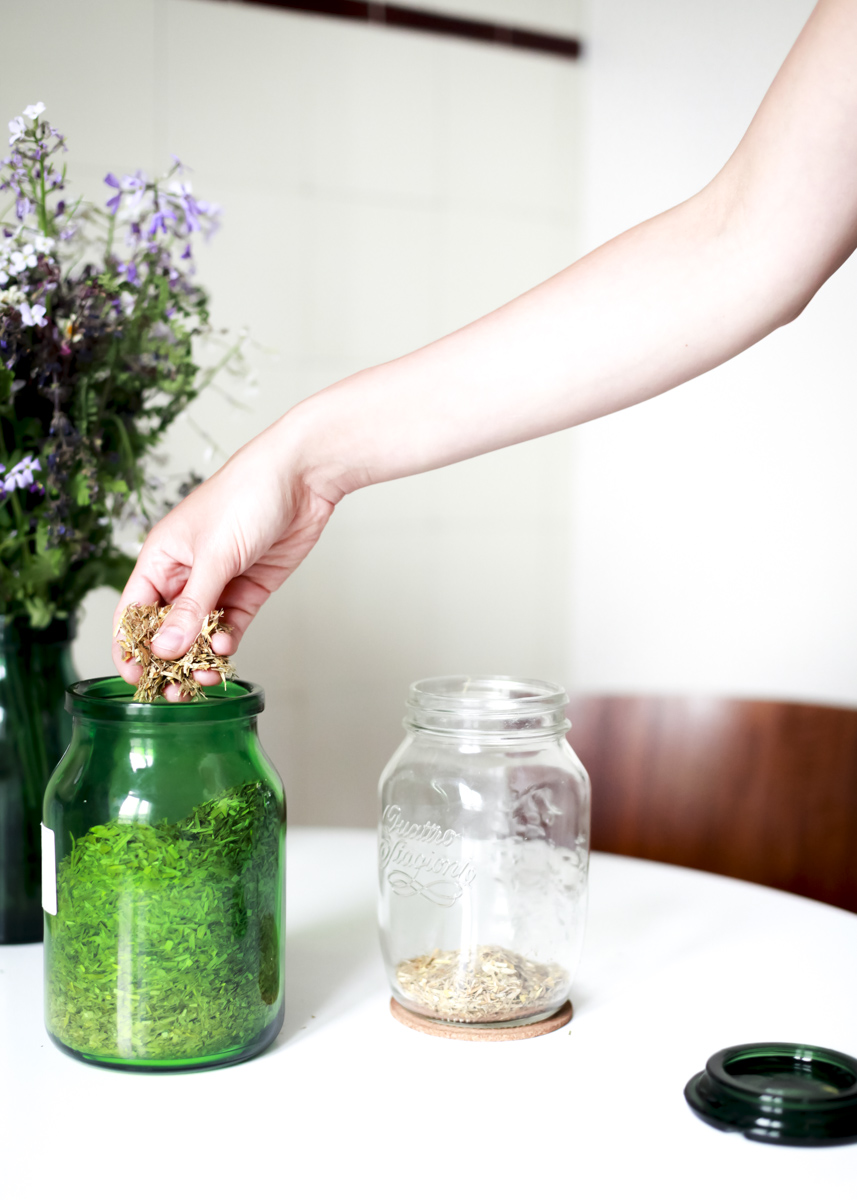 Oat-Straw: Soothing as Silk
Oat-straw makes a nutrient-dense infusion.  It contains high levels of calcium to give strength to our bones, iron and B-vitamins to keep us feeling energized, vitamin C to protect us against disease-causing free-radical damage, and potassium to keep our hearts healthy.
The texture of oat-straw is so smooth and soft that it slips through your fingers like silk.  This texture really speaks to its deeper qualities: the way it nourishes our nervous system and relaxes tense muscles.  It's a soothing herb, one you want to wrap around yourself, perfect for stresses of the body (for example, leg spasms after a long walk) and mind.
I brew a jar of oat-straw infusion on days when I'm feeling run-down, when my bones ache or my mind feels too-wired; anytime I'm in need of what feels like a big, silky hug.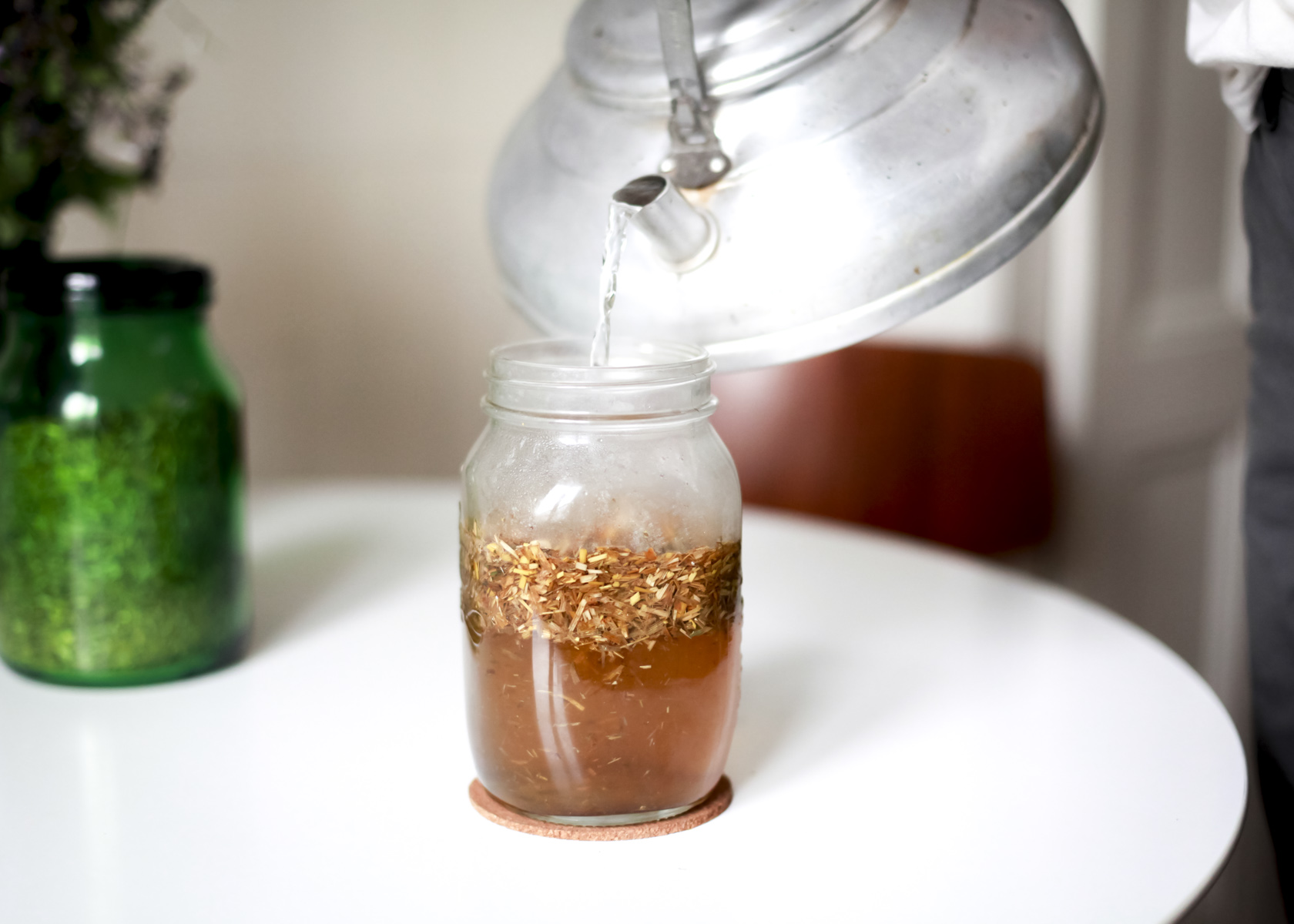 Ingredients
1 ounce or 4 handfuls dried oat-straw
Directions
Place oat-straw in sealable 32oz. glass jar.
Fill jar to the brim w/ boiling water.
Seal and let steep 4-8 hours.
Strain and drink liberally throughout the day.
Oat-straw is delicious served warm or cold.
Like all herbal infusions, oat-straw will keep for 2 days before spoiling.
---
 Oat-Straw + Surprise Swiss-Herbs Care Package Give-Away
Today is the one-year anniversary of The Soaked Bean!  I started this blog last Spring in Vancouver and, as I write this from my apartment in Geneva, my mind reels to think that's it's been a whole year since then, and my heart feels mighty grateful for all the love that's been sent this way.
Thank you to Lulu, whose stellar photography graces each and every one of these pages & thank you to you, dear reader, for allowing me into your kitchen-life and life-life, that means a whole-lot.
So much, in fact, that I'd like to offer one of ye a gift!  A care-package filled with oat-straw, some other special herbs (no, not that herb), and a few other surprises.
All you have to do is leave an answer to this very important question in the comments below:
What does yr dream pizza look like (type of crust, type of cheese, sauce, topping, etc.)?
(Mine = sourdough whole-wheat crust, roasted tomato sauce, fresh goat cheese, caramelized onions + a few anchovies for good measure).
I'll put all the names in a base-ball hat next week (June 3rd) & choose the lucky winner.  This offer is a global one, so for all my far-flung readers out there, don't be shy!