It all begins with the egg.  From expecting mother to first flock of wild geese to, in certain creation myths, emergence of mountains, sea and sky.
Cosmic egg, who split apart to create our universe, without which all would cease to exist.
Familiar egg, from unspecified chicken, nestled in styrofoam or cardboard among 11 others on grocery store's shelf.  So distant from ancestral egg, laid by jungle-dwelling fowl in rain forests of Southeast Asia, egg of "hen fever" breeding craze in the mid 1800s, egg of grandma's backyard coop.
Since the first domestication of the chicken in around 7500 BCE, there has been a flattening of diversity within the species for the sake of economy.  Currently, all meat and laying birds are descendants of only four breeds of chickens; startling considering that there are over 60 breeds of chickens in France alone, and even more startling considering that many of these birds are shuttled from the lab where they were incubated to the fluorescent-lit factory "farm" without ever seeing sunlight.
Nutritious egg, whose yolk is a reserve of energy converted by the hen from leaves & seeds, each leaf a reserve of chlorophyll, sun energy, and so it could be said that each egg contains a bit of sun.
A glance at the nutritional content of the egg astounds:  egg protein contains all of the essential amino acids, a protein so complete that eggs are used to measure the protein content in other foods; its yolk contains high percentages of vitamins A and E, as well as the fat to help absorb them, vitamin D, some B-vitamins, calcium, iron, selenium, zinc, and the good kind of cholesterol which, considered all together, help to keep your stress levels down, your moods balanced, your bones and immune system strong, and to promote a general feeling-good feeling.
Tragic, then: the egg-white omelette, the fried egg cooked stiff, all that runny yolk sunshine gone or oxidized.
Oxidation, which occurs when a yolk is cooked to stiffness, causes a denaturing of its nutrients as well as a sort of "denaturing" of its cholesterol.  Oxidized cholesterol is the reason why cholesterol has gotten a bad name.  In order to protect our bloodstream from being filled with cholesterol, our blood vessels lack receptors for it.  They do, however, have receptors for oxidized cholesterol, which, when consumed in abundance, increases the risk for arterial plaque formation and, ultimately, leads to cardiovascular disease.  This is why it's better to enjoy your eggs on the softer-side.
Tragic, too: the factory "farm" raised hen, whose feed consists of corn and soy and even, in some sad cases, the remains of "spent" hens.  (!!)  No trace of sun-energy, not to mention ethics, in those eggs.
The breed of layers utilized in these "farms" have been genetically modified, as well as externally manipulated to produce the maximum amount of eggs in the minimum amount of time.  For example, the use of fluorescent lights trick the hens into laying eggs, not only in late spring, summer and early autumn when grasses and grubs and sunshine are plentiful, but year-round.  Exhaustion of hens is profuse and most layers last only a year before becoming feed for the next inventory of hens.
Choosing eggs from heritage-breed hens raised on pasture–green grasses, grubs and sunshine–is tantamount not only to whole nutrition, but also to disassembling a dysfunctional "farming" model.
This is a simple recipe that goes by many names:  toad in a hole, bird in a nest, and, for the more literal among us, hole-y toast. The name hole-y toast was introduced to me by a dear friend this past summer and, while at first I appreciated its strictly business approach of describing a process exactly, it's quickly evolved into metaphor for me.
Holy toast because what's more sacred than a simple, nourishing breakfast that features a kind of liquid sunshine?
Or maybe it's that the last bit of bread (the "hole") looks a bit like a communion wafer or, after it's sopped up all the plate-yolk, the sun.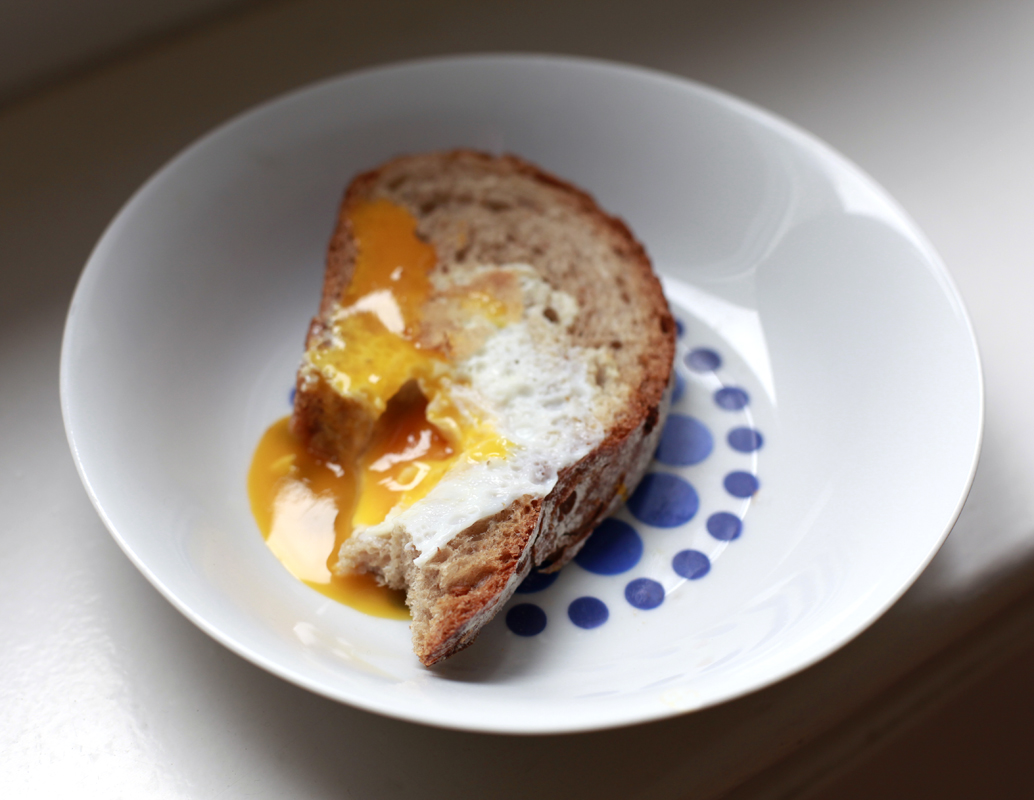 Ingredients
1 egg, (from a pasture-raised, heritage-breed hen)
1 slice whole-grain, sourdough bread
1 knob ghee
pinch salt, to taste
Directions
Cut hole in center of bread. Heat knob ghee in skillet on medium heat, then place toast in skillet and crack into hole.
Let cook 2-3 minutes, then flip and cook an additional 2 minutes.
Season and serve with fermented hot sauce
References:
Fallon, Sally, 1999, 2001.  Nourishing Traditions.  Washington, DC.  Newstrends Publishing Inc.
McGee, Harold, 1984, 2004.  On Food and Cooking.  New York, Scribner.