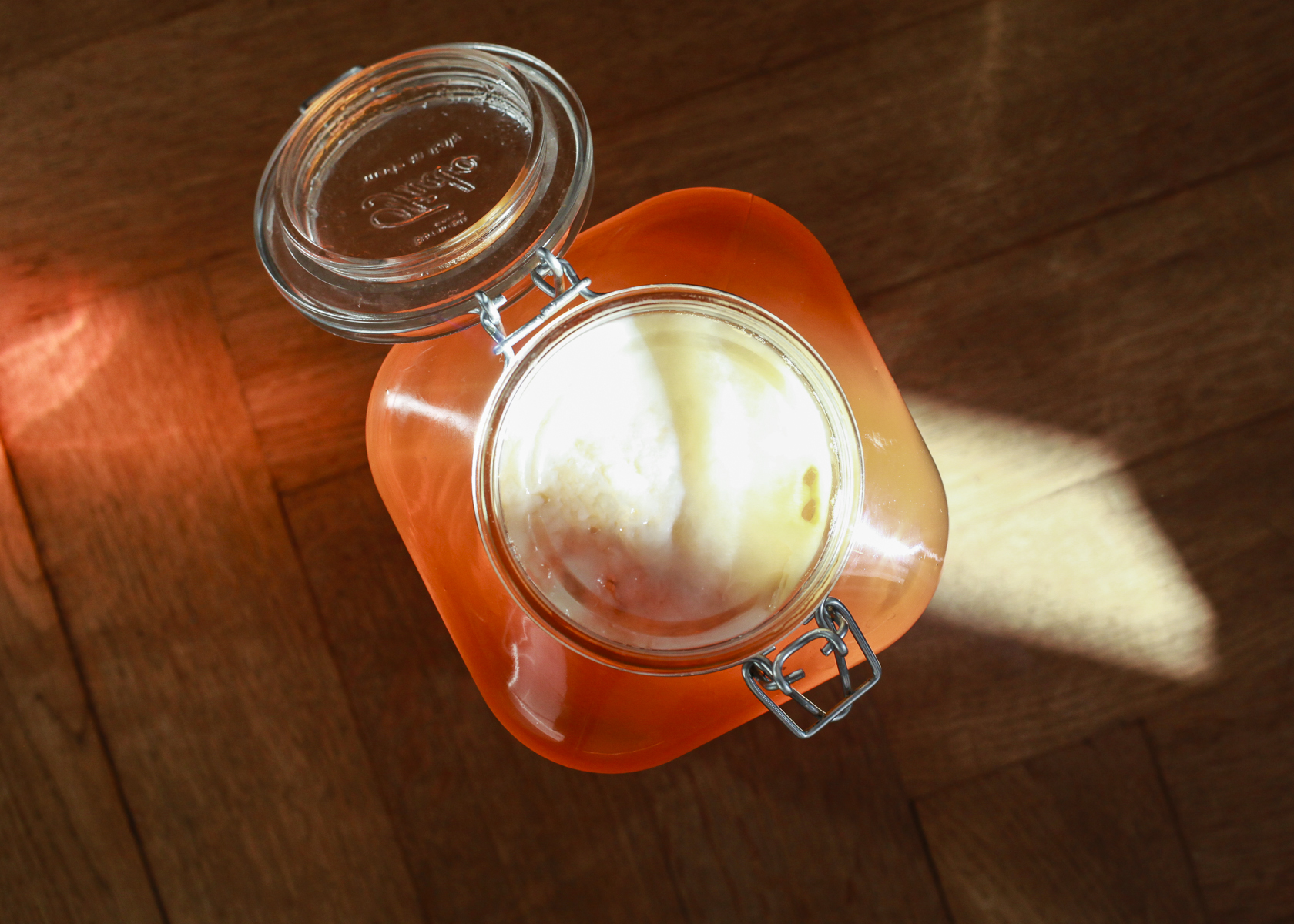 These past few weeks, I've been taking a break from a dear old friend.  A friend that, through the years, I've gotten to know pretty well, intimately, even, as this friend has taken up residence with me in various cool, dark corners for going on two years, now.  Her name is kombucha, or ' booch as I sometimes affectionately refer to her, and she's been a presence in my life since I first became interested in health-food.  You probably already know her pretty well.

Tides are turning, and more and more folks are becoming interested in alternative paths toward wellness and in health-food especially.  Kombucha, an effervescent beverage made from fermented tea, is no longer relegated to the shelves of your neighborhood's organic co-operative grocer, or the back of your hippie friends' fridge but has become a veritable staple in supermarkets, cafes and even the occasional gas station convenience store.
Tides are turning, and as the demand for information on health-food increases, the spotlight on those sharing that information does, too.  Recently, in the article "Green is the New Black: The Rise of the Healthy-Eating Guru", the credibility of a few superstar nutrition-and-food personalities, or, to use the author's word, gurus has been called into question, with the author pointing to many of these gurus' lack of credentials to discredit their advice.
Go gluten-free!  Juice your greens!  Swap cow's milk for nut milk! Drink kombucha!
The author finds fault with these commands, as they are typically issued without substantiation by scientific research and by individuals without a scientific designation.  I find faults with these commands as they are just that–commands–which remove the possibility for conversations.
It's undoubtedly important to be well-versed in the subject on which you are offering public advice.  However, I feel the real issue (which the author neglects to mention) is that so many of us remain unversed in the subject of nutrition which is, when you think of it, one of the most essential and relevant subjects we can ever learn!  What other subject serves to keep you and your family and, even, in a broader sense, your community healthy through all life's ebbs and flows?
The other issue, as I see it, is that most of us have relied on the advice of allopathic medical experts for so long that even when we begin to seek an alternative path to wellness we do so within the same paradigm:  We choose a personality–an expert or guru–and follow their commands without question or conversation.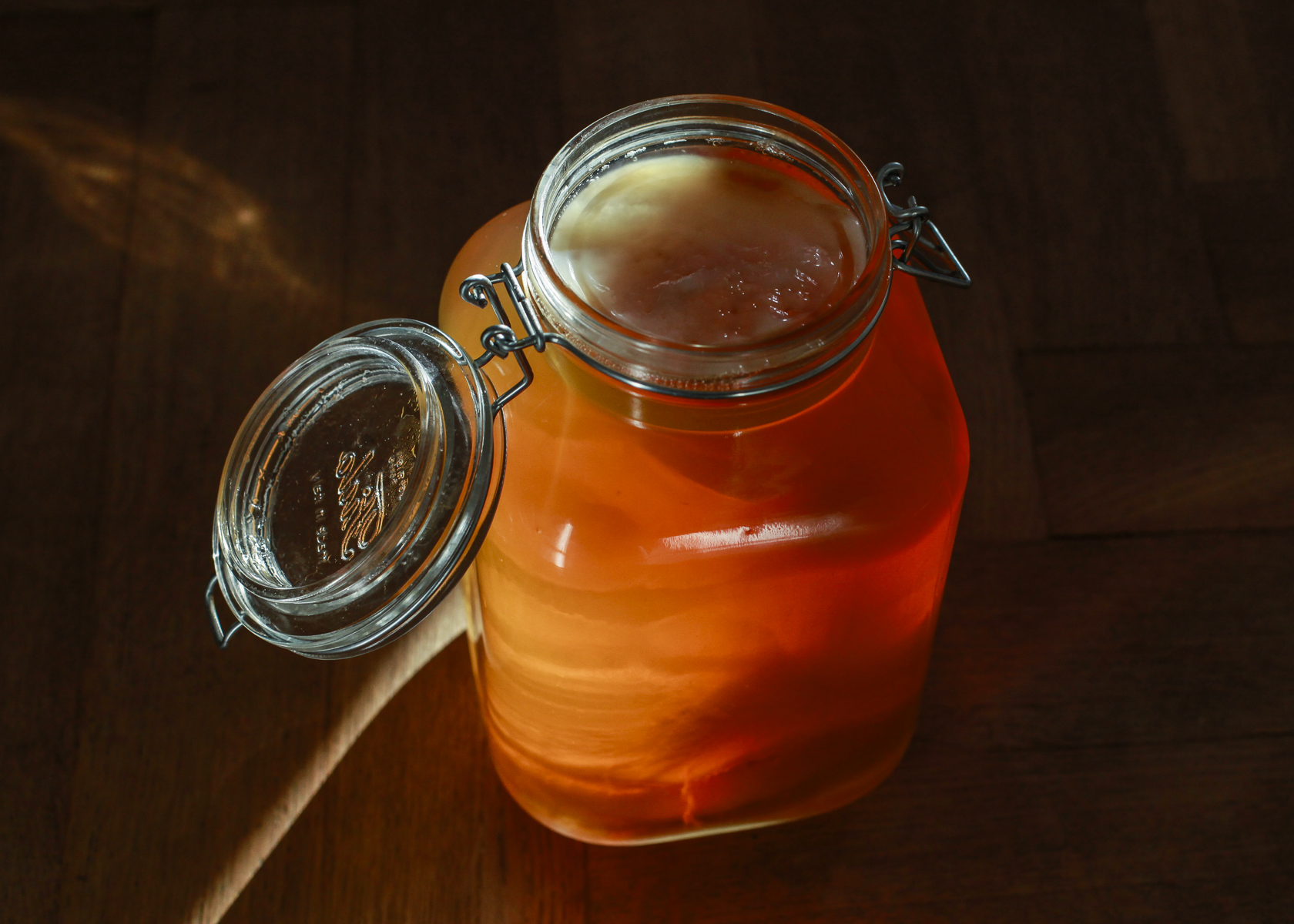 Drink kombucha.
A few weeks ago, I started to notice that I was feeling a little out-of-it after drinking my habitual glass of the 'booch.  Nothing had changed–my scoby was healthy, my recipe and process were the same as they'd been for the past two years–but, still, something seemed off.
And yet, I continued to drink it.  Because it's a health-food.  Because it contains probiotics.  Because the nutritionists I admire recommend it.  Because my teachers told me to.  The idea that kombucha can be at once a fundamentally healthy beverage and at the same time an "unhealthy" choice for me, at this moment, was challenging to accept.
I have an education in nutrition that the author of the aforementioned article would find lacking.  I'm no dietician, but I did study nutrition for a full-year academically and for many years prior personally.  I didn't enroll in my studies to become a guru, but to better learn what health-food means to me, for me, through all life's ebbs and flows.  This knowledge empowers me to ask questions, to start conversations, to come to my own conclusions and to share what I've learned with others.
So I started a conversation: I've lived in Switzerland for almost a full-year now.  I can feel, at times, anxious, and as I've found myself more and more settled here I've found this anxiety increase.  I've lived in many places, but never w/ the idea of staying put, and it's been both a lovely and terrifying experience.  Kombucha is a stimulating beverage–I make mine with un-smoked lapsang souchong tea– and I realized that it was contributing to my anxious feelings.
And so I stopped.  I made the best choice for myself in that moment by shifting from observing command to starting to question, to converse.
Tides are turning, and there's a need now for more conversation and less commands.  The rise of the healthy-eating guru points to something far more significant than a few individual personalities.  It points to the fact that people are eager to learn about food and explore their relationships to it.  Instead of condemning the interest in health-food, I say we take nutrition out of the hands of the experts and/or gurus and place it back in our own.
After all, they're the ones that feed us through all life's ebbs and flows.