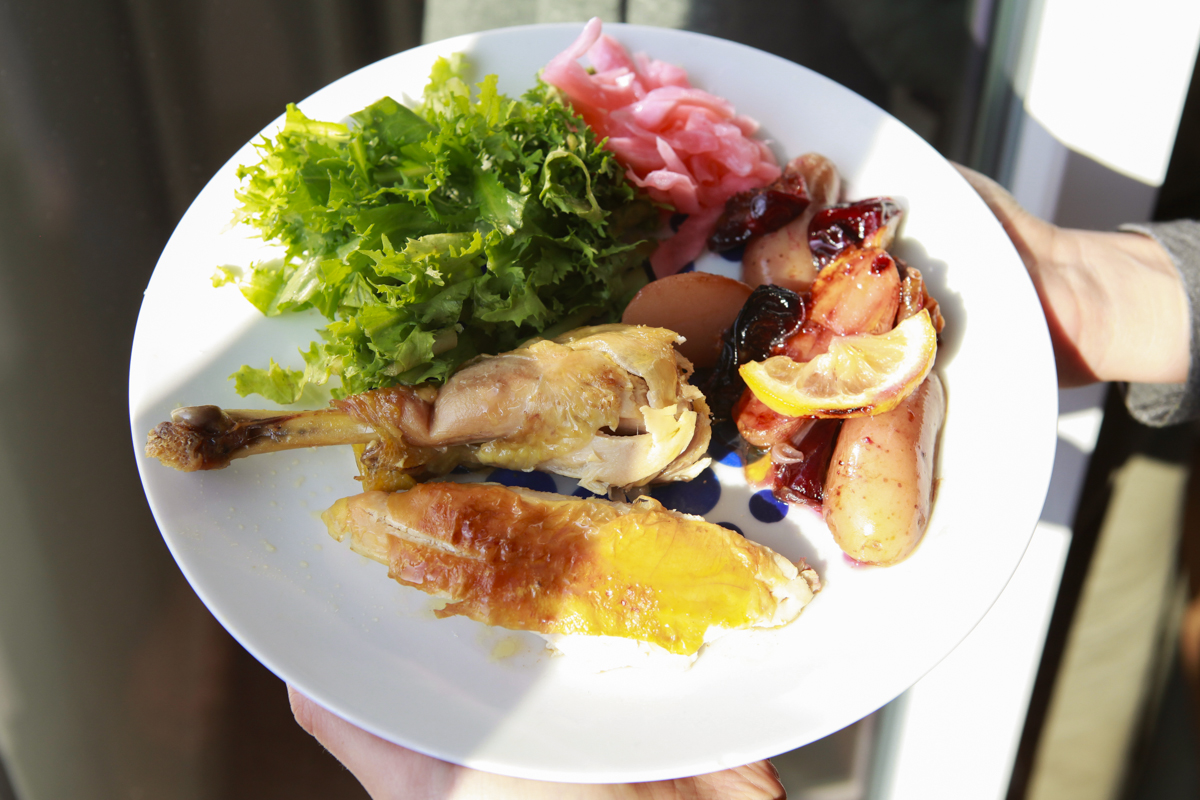 Years ago, while traveling through France, I had the good luck of my train getting terribly–I'm talking four hours at a standstill, day turning to night, plans for a transfer toward Florence going, going, gone–delayed.  I say good luck because this delay somehow landed me in the care of Laurence–a fellow passenger with a kind heart and a keen eye for those in need of care–and her sweet family in their sweet home in Lyon.  While there, I had my first experience of the French Sunday, or Dimanche as they say, and, specifically, the Sunday roast:  the French translation of our Sunday brunch, a slow-cooked meal requiring little in the way of preparation, typically enjoyed in the late afternoon and amongst family and extended family and, in this case, stranger from a train.
Dimanche in Geneva, as I've experienced it thus far, doesn't stray too far from what I first encountered in Lyon.  A late start to the morning, coffee over newspapers at a neighboring cafe, some hours in a nearby farmer's market meeting L's family and eating falafel and drinking ginger juice in the sun, the selection of vegetables, cheese, cut of meat, type of wine for our own Sunday roast, then home, where we'll truss or marinate, chop or not, toss everything into a dutch oven and then into our oven-oven and spend the roasting hours looking at old books or reading new ones, cleaning the bathtub or watering the plants, calling my family or sweeping under the bed, writing postcards or taking a walk around the neighborhood, tending our physical nest or our metaphysical one until it's ready.
In effort to spread this cozy Sunday feeling, I'd like to introduce the Dimanche Roast: a series of nourishing recipes that require little preparation and that give you those empty roasting hours to enjoy your Sunday however you like it.
This Dimache Roast took ten minutes to prepare.  The plums caramelize during roasting, coating the potatoes with a kind of savory-sweet jam that brings this simple meal into other-worldly territories. We only had seven small plums on hand, but I would definitely recommend using more for maximum dimensions of jamminess.
Some brief notes on choosing a chicken:
The majority of our meat birds come from only one type of chicken: the Cornish Cross.  These birds has been hybridized, or engineered, to function in factory-like conditions, with a factory-like emphasis on productivity.  They are, essentially, a "chicken" only in name, having lost much of their cleverness, their vigor, and, in turn, their nutritive value through this hybridization.
Even "free-range", "pasture-fed" birds may be of the Cornish Cross variety (you can spot them by the size of their unusually large, ahem, breasts).  Unfortunately, "pasture-fed" is a misnomer in the case of these birds, as they lose their ability to stand (those big breasts are heavy!), let alone forage about, within a few weeks of their short lives.
Heritage breed birds, on the other hand, are chickens as they naturally evolved to be: foragers of leaves, seeds, berries and bugs, they know best how to nourish themselves and, in turn, provide the best nourishment for us.  Their names evoke places both distant and near, Rhode Island Red, Blue Andalusian, White Crested Black Polish, and can be indicative of their plumage or (if they're layers, as well) the unique color of their eggs.
If heritage breed birds are unavailable in your community, perhaps an inquiry to your local farmer would be fruitful.
Dimanche Roast: Chicken with Potatoes & Plums
Ingredients
1 whole chicken, trussed
8 small, new potatoes, halved
10 ripe plums, halved
1 yellow onion, chopped
2 cloves garlic
1 lemon, chopped & sliced
1 knob ghee
salt & pepper, to taste
Directions
Heat oven to 350F.
Rinse chicken with cold water, pat completely dry. Stuff with halves of lemon, onions, and garlic. Slice upper layer of skin and rub ghee under skin. Place thin slices lemon under skin. Salt chicken.
Heat dutch-oven on stove on medium heat. Once nice and hot, place chicken top-side-down in dutch-oven. Let sear for a few minutes, then turn onto opposite side. Remove dutch-oven from heat.
Add halves of potatoes, onions, and plums to dutch-oven. Add knob of ghee, salt and pepper to taste. Cover dutch-oven with lid and place in oven. Let roast for 90 minutes.
Slice into breast to see if it's done.
Enjoy a long meal with your loved ones.