Lulu & I celebrated Imbolc this past Sunday with a loaf of sourdough poppy-seed bread and two bowls of this nourishing squash soup with three beeswax candles, a jar-full of fiery fringed-tulips and an almost-full moon beside.
For the uninitiated: Imbolc falls midway between the winter solstice and the vernal equinox, a celebration of fertility goddess brigid, a heralding of spring & all the fertile life and light it brings.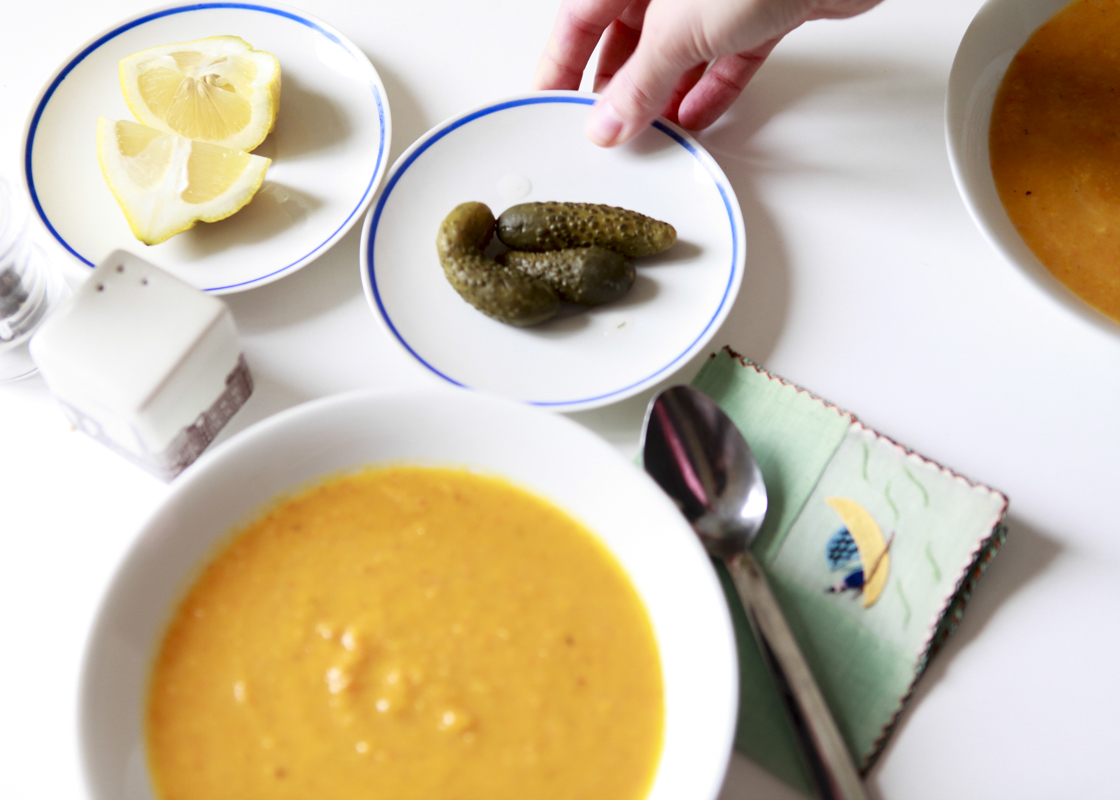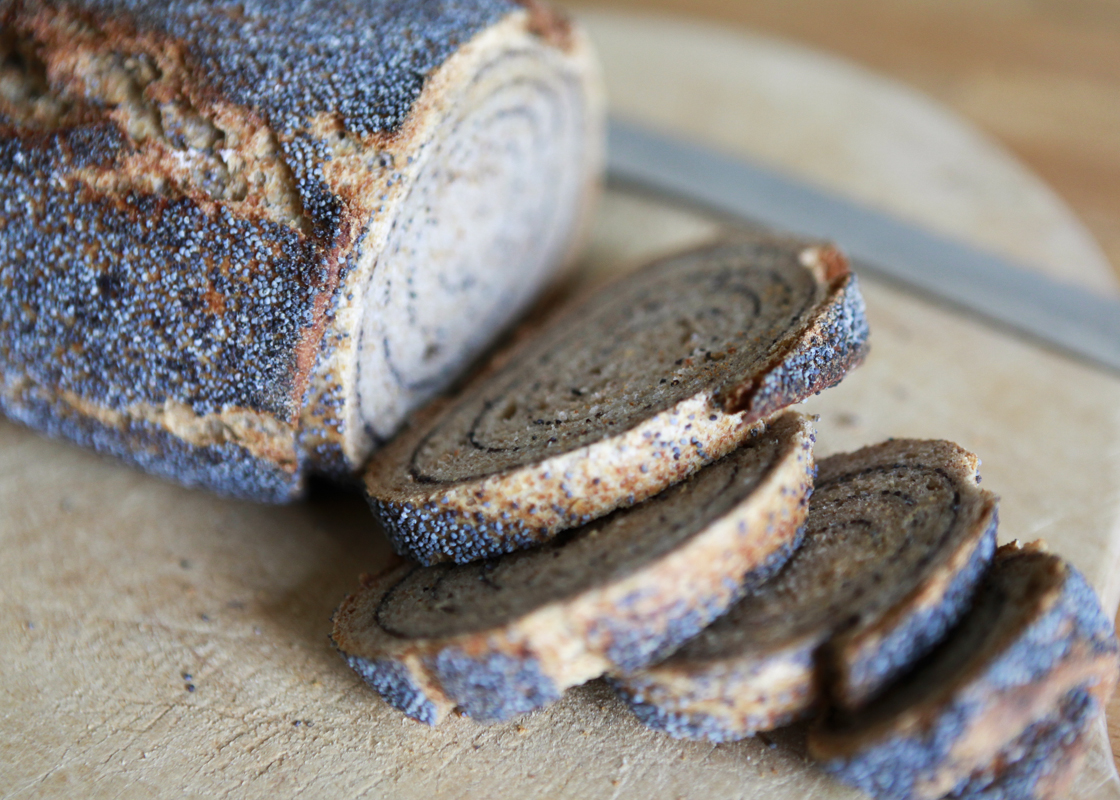 Yule, Imbolc, Ostara, Beltane, Midsummer: though I by no means consider myself a pagan (okay, maybe just, like, a neo-neo-one), there is something so wondrous about celebrating holidays that are unabashed celebrations of the seasons.
I say unabashed because, of course, many of our American holidays are still guided by seasonal rhythms.  In fact, many have been derived from the pagan calender–Ostara (or the Vernal Equinox) has become Easter, Yule (Winter Solstice) Christmas, Mabon Halloween.  Even Imbolc has wedged its way into our culture through Groundhog's Day (for which I am grateful solely because without GD, we wouldn't have that Bill Murray masterpiece).
But while their pagan counterparts are centered around these seasonal transitions, I find American holidays take them for circumstance (See: Christmas in July), trading in traditions based on nature for (and I swear this isn't turning into a [major] rant against commercialism) ones based on consumerism.  Not to mention the replacement of every single female representative for a male one, with goddesses Ostara and Brigid replaced by a male bunny and a male groundhog, respectively.  A bunny and a groundhog.  Shaking ma tête.
The celebration of Imbolc depends on personal preference.  Goddess worship, if that's your thang, could certainly be apart of it, weather divination (like in the case of ol' Groundhog's Day) by a walk in the woods and a watching for creatures who have emerged from winter-den, a candle-lit dinner, a bonfire with friends, a jar of bright flowers, a bowl of squash soup. A way of celebrating the season, the moment at hand.
I've found this to be the brightest balm for late winter blues: a reminder that the wheel is ever-turning, changes are afoot, Spring is almost almost-here.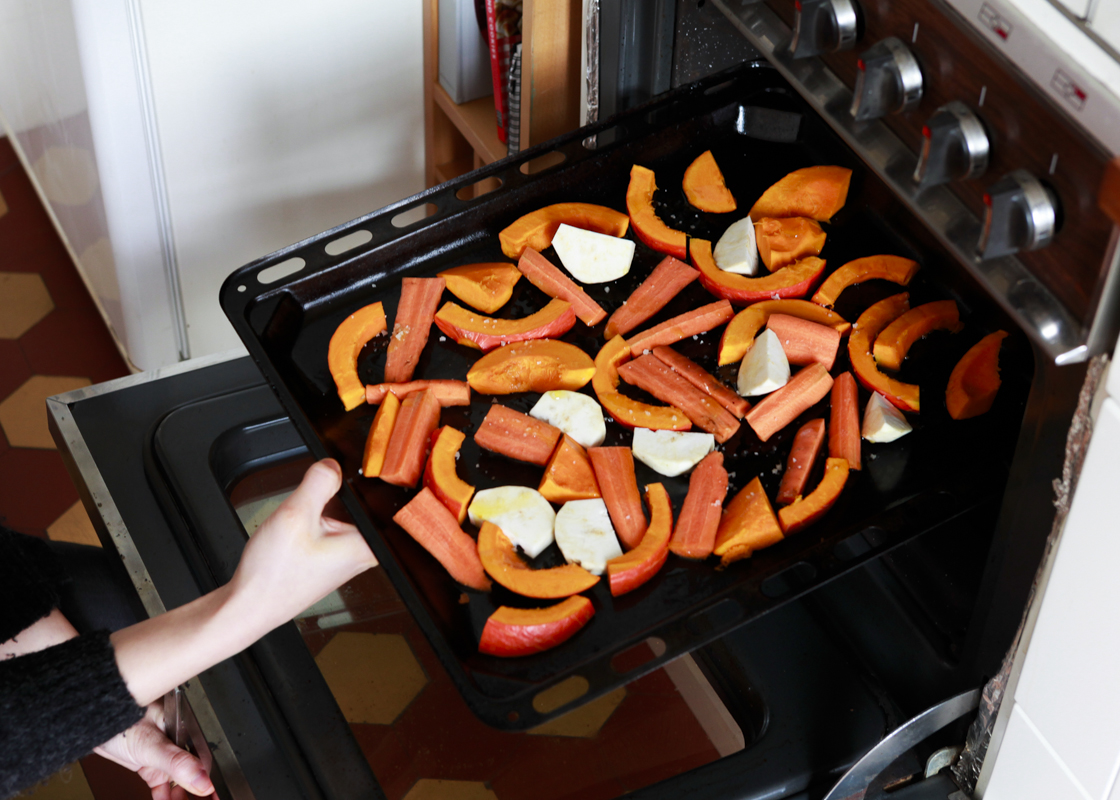 I've made many versions of this soup before (with cumin and coriander, paprika and za'atar, lots of garlic and fried sage).  This is, by far, the simplest one. It's also my new favorite as the minimalistic approach really lets sweet Kabocha shine.
Imbolc Kabocha Squash Soup
Ingredients
1 small celeriac, chopped
2 carrots, chopped
1 kabocha squash, gutted and chopped (leave the skin on! it's edible & full of fiber & nutrients)
2 good knobs of ghee
1 onion, diced
1 pint beef bone broth
water (if needed)
Directions
Heat oven to 350F. Chop celeriac, carrots and squash so that the pieces are roughly the same size. (Important, as you're roasting them together and you want them to roast evenly). Place on roasting pan. Melt knob of ghee and pour over vegetables. Add generous sprinkle of salt. Cover with foil and roast for 45 minutes, or until all vegetables are soft.
When vegetables are almost through roasting, heat soup pot on stove on medium-flame. Add knob of ghee. Once melted, add onion and another good sprinkle of salt. Let onion cook until translucent, then lower the flame.
Add roasted vegetables and ghee-drippings to pot. Cover with pint of bone broth, adding additional water if necessary. (Liquid should cover the vegetables so that your soup is velvet-creamy). Bring broth to a rolling boil, then take off of heat.
Let cool for a few minutes, then use immersion blender (Important, as pouring hot liquid into a standing blender or food processor can lead to major leakage) to blend.
Enjoy with hunk of sourdough bread, spoonful of raw sour cream, lacto-fermented pickles,and/or drizzle of olive oil and squeeze of lemon.