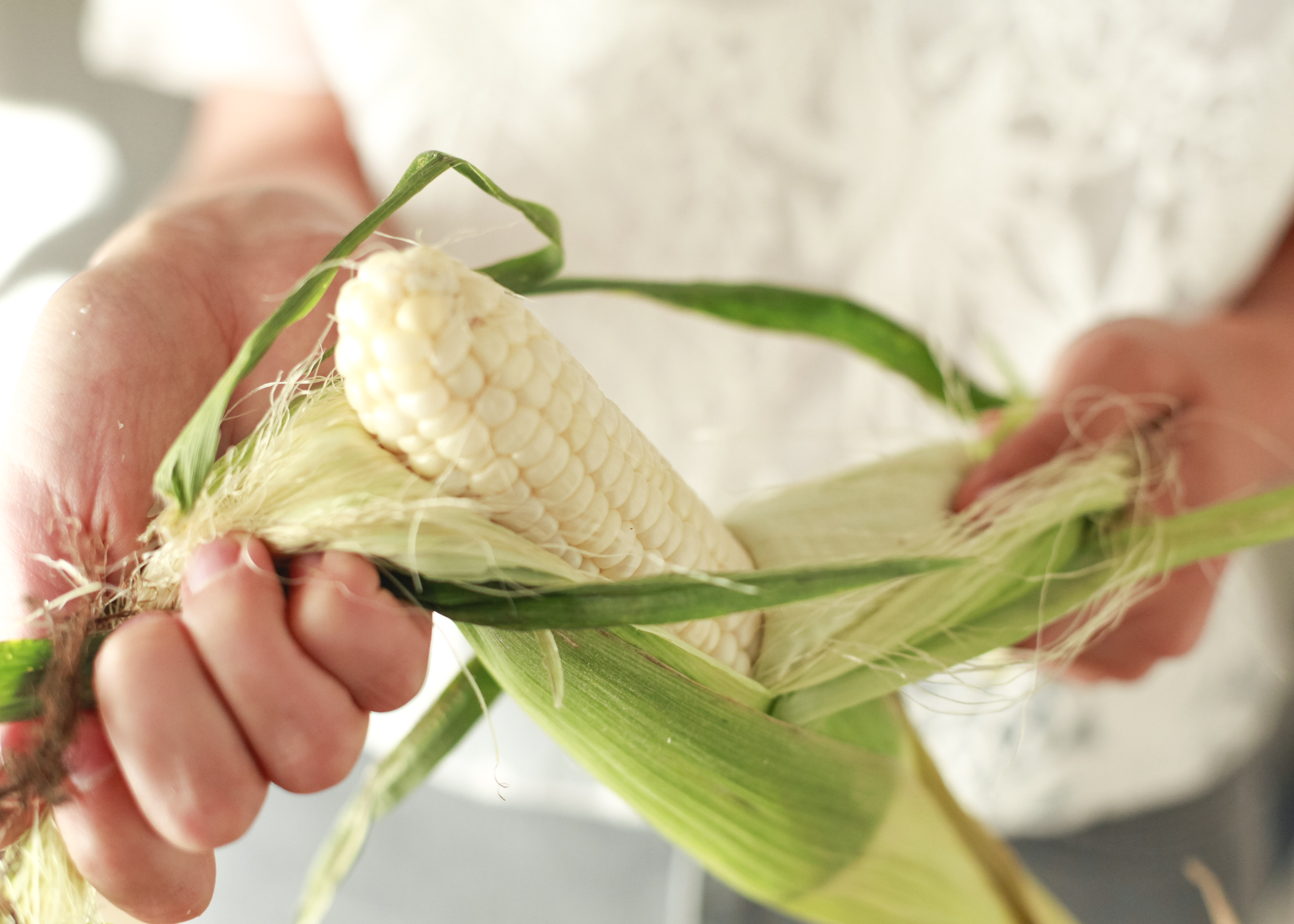 We're deep into late summer, the season where all is ripe, ready to be pulled from soil, stalk, vine.  It's harvest-time and for me that means 2 things: #1. cramming as many summer activities (swimming in the lake and biking long-stretches beneath already-starting-to-fade green and eating as many raspberries/tomatoes/summer squash as possible) as I can into these ever-shortening days and #2. preserving, because this harvest season, like all seasons, is turning and for this Winter I dream of a cupboard lined w/ jars of home-canned tomatoes, a freezer-drawer filled w/ home-frozen berries and cracking open a jar of home-fermented dill pickles on some bone-chilling night.
In Geneva, we've already had a few down-right Fall-like days and I made this chowder one fresh evening with some frozen chicken broth from last Winter.  The recipe was adapted from Jessica Prentice's Full Moon Feast, a beautiful book about what feeds us (and it's so much more than just food, y'all) throughout the year.  Each chapter is named for each month's full-moon–harking back to an age where time was so deeply interwoven w/ what was on (or missing) from our plates– and Prentice uses a mix of history, folk-lore, nutritional science, and personal anecdote to deepen our connections between ourselves and our food.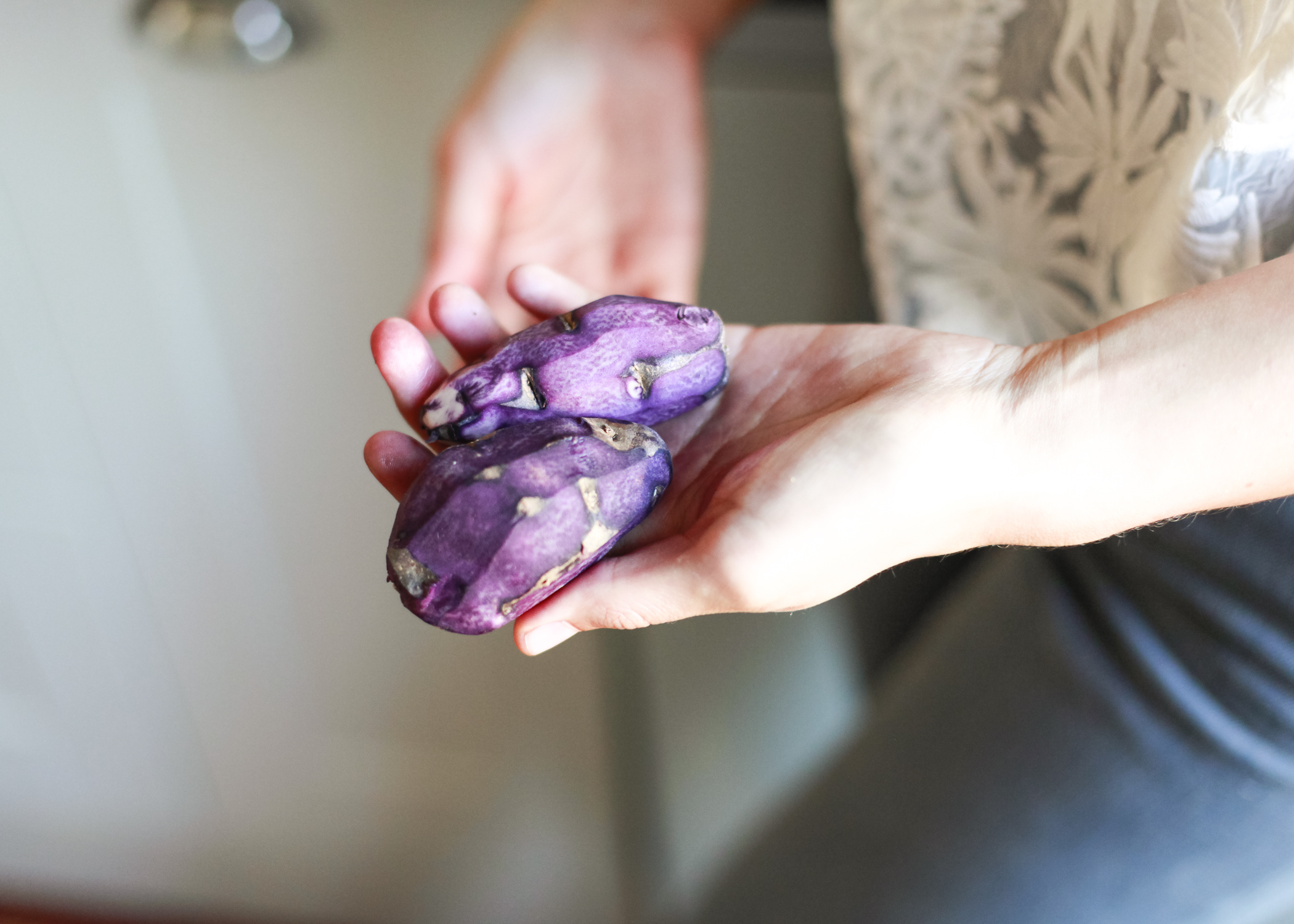 The first full-moon of late summer was traditionally called the "Corn Moon"–corn meaning "grain" long before European colonialists encountered zea mays (or the corn in this recipe).  Prentice talks about agriculture–how it's shaped our social, cultural and environmental landscapes–and about balance.  To paraphrase: yes, the way most grains are grown in the U.S. are corrosive to both our planet and ourselves and yes, many folks would agree that the rise of agriculture was, indeed, the starting point of this anthropocene epoch.  But also: grains have seen us through many a long-mooned night, and, when prepared properly, nourished us for thousands of years.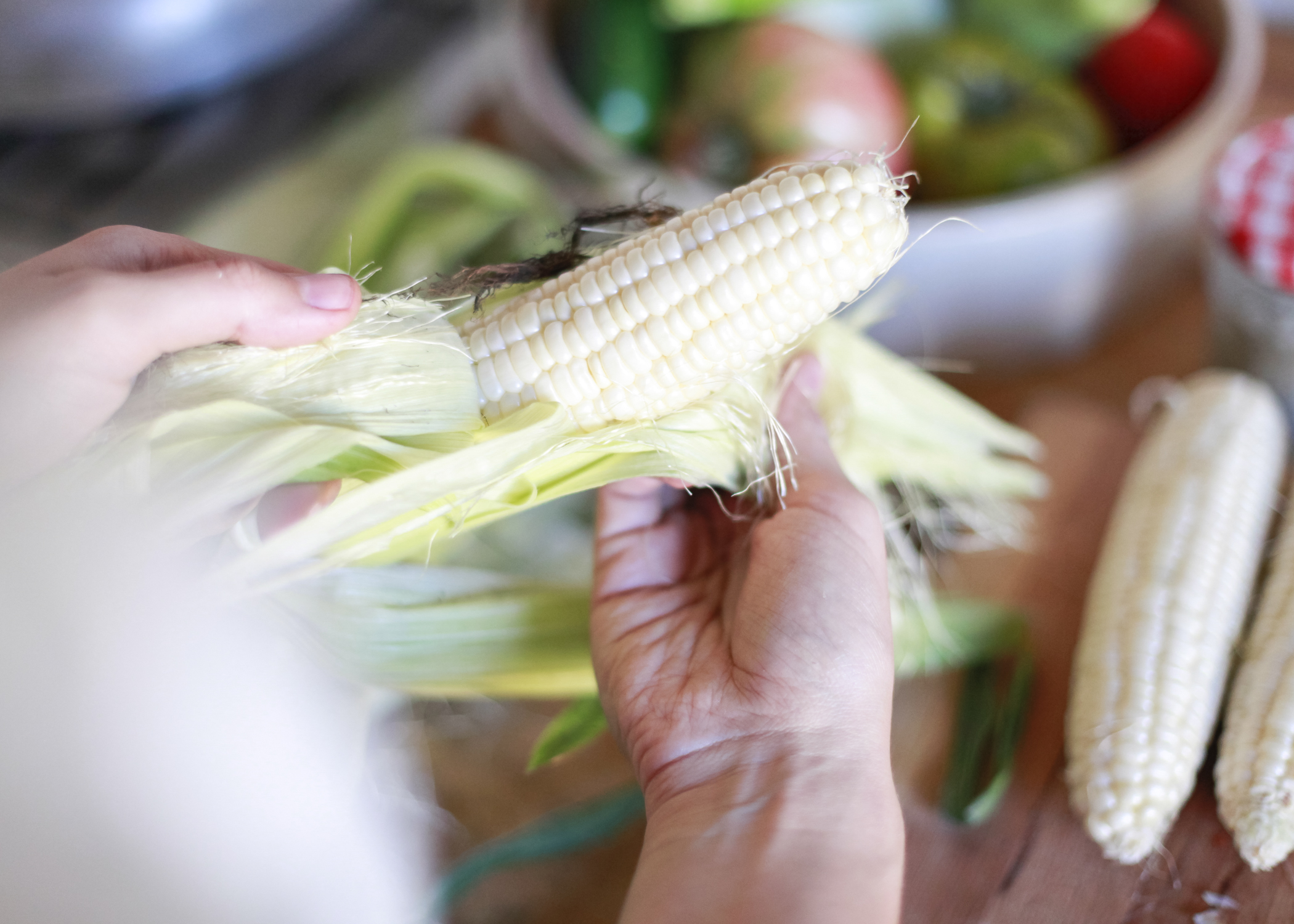 Like corn.  Corn was held, in many cultures, as something sacred–a symbol of survival and sustenance, something that could be stored to see one's community through the barren Winter.  The corn that has nourished indigenous Americans for centuries has little to do w/ the majority of corn grown in N.America (and shipped elsewhere) now.  Genetically-modified, grown in petroleum-based fertilizers, sprayed with petroleum-based chemicals–this kind of corn is not a symbol of life, but of war and death.
Perhaps that's why so many nutritional camps have sounded alarm.  Many foods have become controversial in these past years, but none more so than wheat and corn.  For me, these foods are prime examples of why nutritional guidance should be nuanced and not applied with such broad strokes.  The corn I used in this recipe is an old variety, grown in organically-cultivated soil from a neighboring farm.  If I wanted to, I could shell and dry its kernels and use its flour all Winter long.  Sounds pretty sacred to me.
When I say nutrition should be nuanced, I don't mean complicated.  Sometimes it can be as simple as just eating the foods around you.  Like a corn and potato chowder on a harvest new-moon.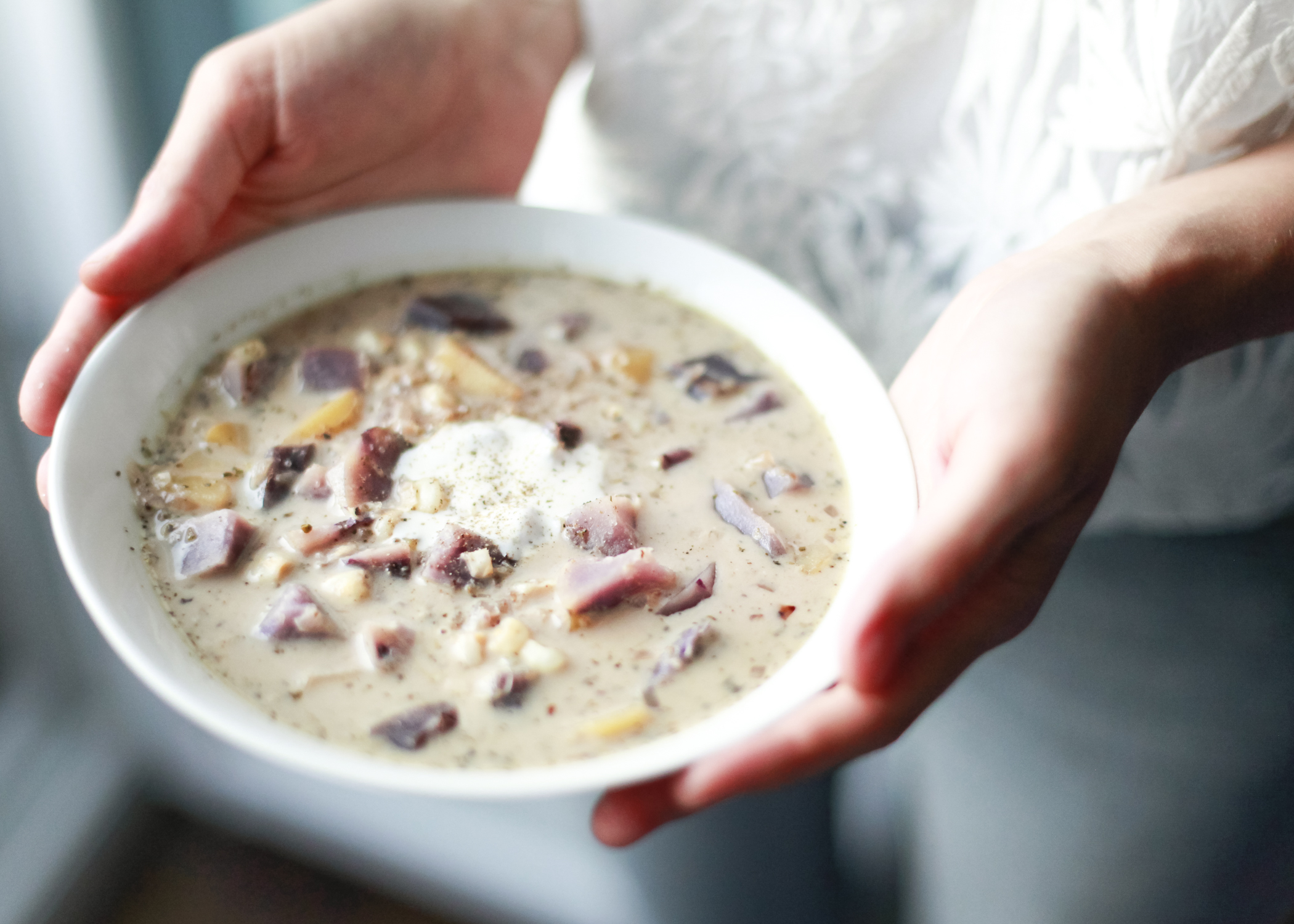 Harvest Corn + Potato Chowder
Adapted from Prentice's Full Moon Feast
Ingredients
3 ears corn and the cob
1 quart chicken broth
3 tablespoons ghee
2 tablespoons za'atar or dried thyme
3 small leeks, sliced into rounds
1 carrot, diced small
4 handfuls potatoes, cut into chunks
salt and pepper to taste
3/4 cup raw sour-cream + 1 tablespoon for garnishing
Directions
Slice the kernals of your corn into a bowl and scrape the corn "milk" into the bowl, as well.
Heat your broth in a small pot with the corn cobs and simmer covered for 20 minutes.
Meanwhile, add ghee to a heavy-bottomed soup-pot. Saute the leeks until translucent. Add carrots and cook and stir for another few minutes. Add potatoes and enough stock to cover (if you don't have enough, just add a little water). Add big pinch of salt. Bring to a boil, then simmer (covered) until the potatoes are well-cooked (about 15 minutes).
Add corn kernels and simmer for another 5 minutes or until tender.
Remove from heat and add sour-cream and stir. Add salt and pepper to taste.
Garnish w/ a spoonful of sour-cream and enjoy w/ a slice of buttered rye-bread.